"First is not a place, it's the LIFE!"
Hello and welcome to Snyder Gaming. This our little slice of gaming heaven and we hope you enjoy all of the things we have to offer.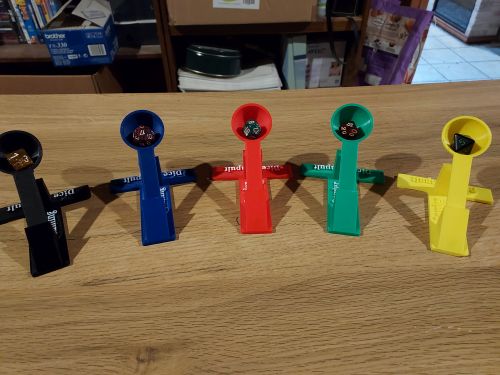 Say hello to our new friends! These are our new Dice Catapults and they are great for any dice game or even for some war games. Let us know what you think. They are available through the menu bar at the top of the screen under Gaming Accessories!
As you navigate through our website and check out our games and gaming accessories, you will notice that there is plenty to see and search through. We are constantly working on new items and games for you wonderful gamers to check out. Our gaming variety is kind of spread across the board and that's because we enjoy many types of game play.
We are currently working on several new games and expansions to our current games. The expansion to Dragon Hunting will be done very soon. So keep an eye out for those. Learning is Fun and the Champion Racing Series are both close to being completed as well.
Convention season is going on right now. So please take a look at those and see if we will be in your state this year.
We are happy to bring you family friendly and party games. Please feel free to leave comments or ask questions about anything you are curious about. We will get back with you as soon as possible.
Good luck and happy gaming!